Supporting families with children's sleep
Getting a good night's sleep is vital to our health and wellbeing. Poor sleep can have negative effects on our emotional, physical and mental health. Yet sleep is often overlooked when we consider our health and wellbeing. For babies and children, getting a good night's sleep is even more important – sleep allows babies and children to grow and develop. It is essential.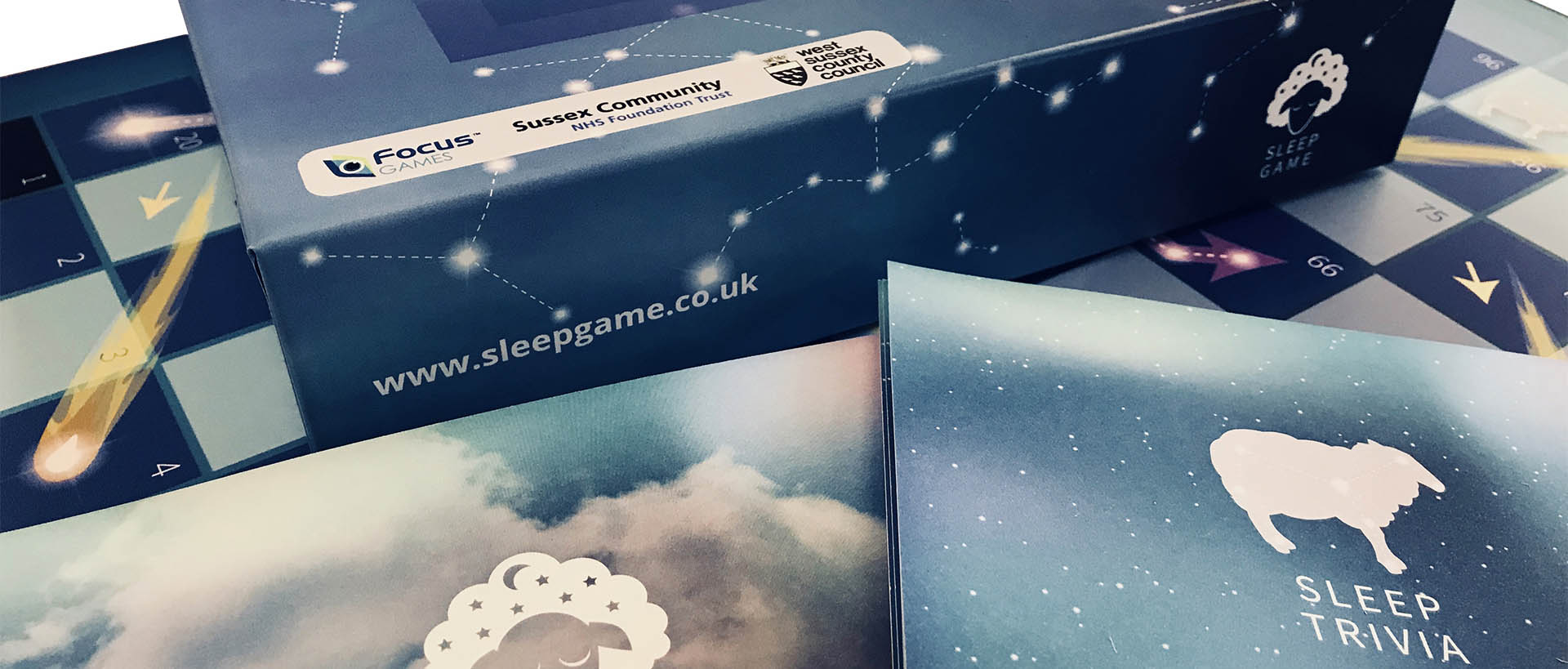 The Sleep Game is designed to raise awareness of the importance of sleep for babies and children. It helps health and social care professionals working with families to better understand sleep in order to support families more effectively.

The Sleep Game is suitable for all professionals working with babies, children and families. It helps them to improve their knowledge of healthy sleep behaviour, which they can pass on to parents and families to be implemented at home. The game can be used as a standalone learning activity, or as part of a wider sleep training workshop – the workshop package can be downloaded below.
Face-to-face and online versions available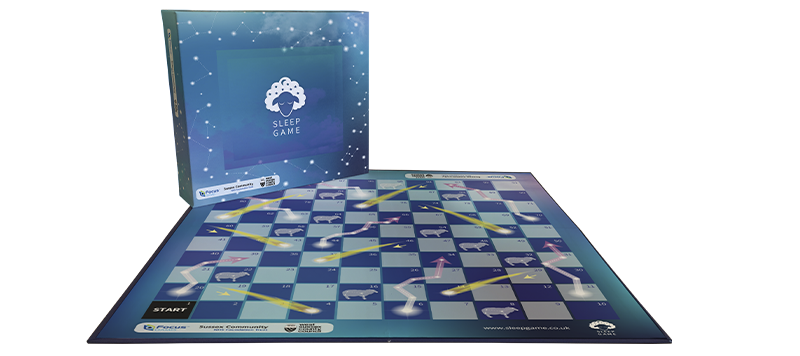 Board game for face-to-face learning.
Traditional tabletop game for groups working face-to-face. Encourages collaborative team discussions.
Generates fun and enthusiasm with a serious purpose and clear outcomes.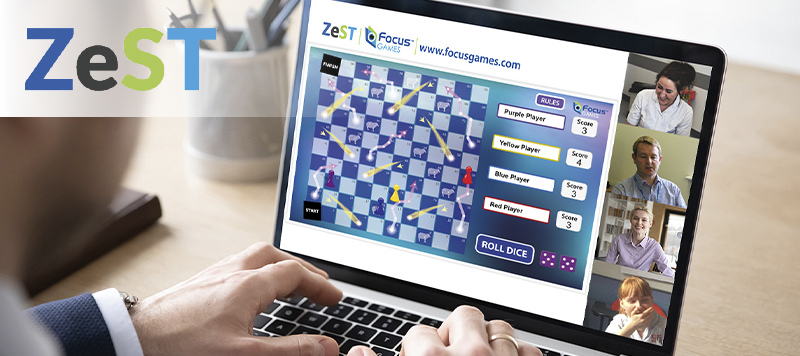 Online for socially distanced learning.
Digital board game replicates the intensity of face-to-face on Zoom, Skype & Teams.
Can be used for remote learning or socially distanced face-to-face sessions. Just share your screen with the group, wherever they are.
What's in the box?
A BETTER WAY TO LEARN
Games make face-to-face training more engaging and effective.
Games encourage people to talk and learn from each other.
Games can be used anywhere, by anyone with no external support.
Games = a workshop in a box.
Sleep Game training package
Download free training materials to support learning with the Sleep Game:
Training guide: a step-by-step guide to delivering sleep training featuring The Sleep Game
Presentation materials
Action plan: put learning into practice
Developed by children's sleep expert
The original idea for The Sleep Game came from Ruth Silverman. Ruth is a qualified nurse, midwife and health visitor with over 25 years' experience in the NHS. Ruth has run many sleep clinics and successfully supported families to get a good night's sleep with their babies and children.
"In recent years, I've been focussing on improving sleep awareness and training for a range of professionals in West Sussex. The Sleep Game supports this training and is a fun way of learning new knowledge and skills for any professional working with children."
Ruth Silverman, RN, RM, RHV, Bsc (Hons), Queens Nurse.
"This is a fun and simple game that can be used for teaching the wider healthcare team on sleep, and a welcome resource that will be used frequently in staff training. It is always good to reinforce what you know and gain a wider understanding of sleep."
Clinical Nurse Specialist in Sleep, Sheffield Children's Hospital
"I played the game at a family day run by our sleep service. It is a great game to help people gain more understanding of sleep, and good tips for improving sleep. I found it informative, a good way to think about all of the answers and what could be the causes of poor sleep."
Parent of a child with narcolepsy
"I think this game is great. Really useful for training purposes for staff to have a better understanding of sleep, and also to promote discussion around sleep."
Paediatric Sleep Psychologist, Sheffield Children's Hospital
Professionals want sleep training
We surveyed a range of professionals who work with children and families.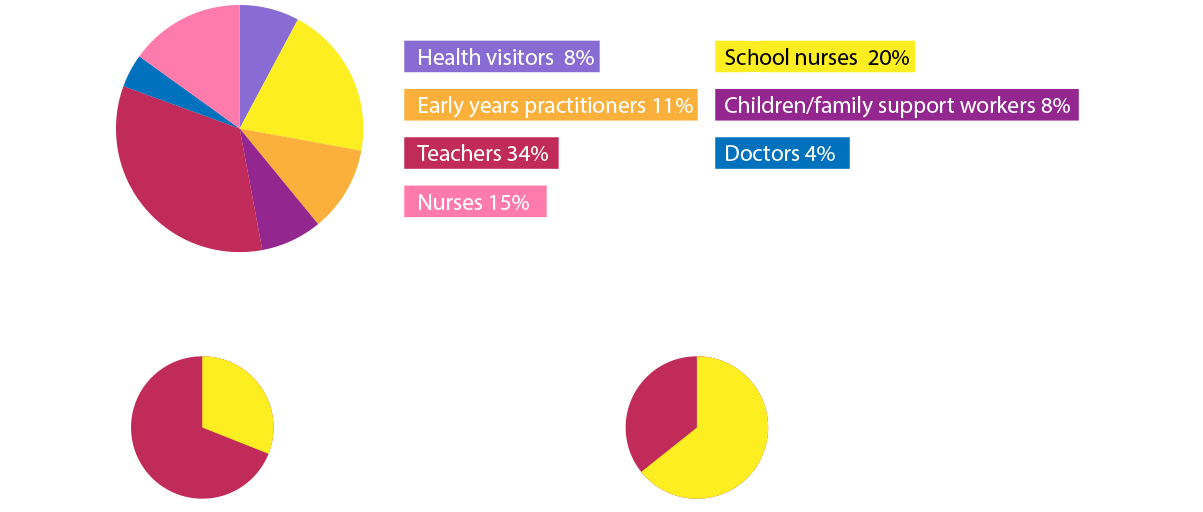 Feedback from respondents:
"In order to support families and their children with complex/additional needs, we should be able to provide evidence based up to date knowledge, advice and information."
Specialist Nurse.
"As a teacher who works with children with additional learning needs, I feel that it is beneficial for me to have an understanding of children's sleep. Having a better understanding of children's sleep would allow me to support both learners and their parents/carers."
Teacher.
In The Media
"A specialist health visitor in Sussex has developed an innovative board game to help nurses and other professionals understand the importance of a good night's sleep for children."
Nursing Times

"I think this is absolutely brilliant. A bad night's sleep stops any of us from being at our best and for children whose young minds are developing at a rapid rate, sleep is especially important.

This is a fun and interactive way to learn about why sleep is so vital and the game will give professionals better knowledge to then pass down to parents, carers and young people about the enormous lifelong value of healthy sleeping habits."
Stephen Hillier, West Sussex County Council Cabinet Member for Children and Young People.
Ready to buy the Sleep Game?
Or perhaps you'd like to get in touch?